Editor's Preface
I've set myself quite a challenge introducing this weekend's Guest Blog, because what follows is an utterly, charming and endearing account of one man's journey with a racing car, a Lotus Seven no less. Mr Tony Pashley tells us about his life as a Lotus Seven enthusiast and how he realised his ambition to own such a vehicle. His account takes us through several decades (Lotus having been around for seven) with many trials and tribulations, and much joy not just with the car, but also his family and friends.
No comparison with what one might experience with the modern day Electric Vehicle, with all manner of complex gadgetry and controls, that you really can't take to pieces yourself. At least, for now, we still get to drive them, whereas one day in the not-too-distant future we'll be relinquishing such pleasure to an AI. As Tony rightly points out, the sheer delight of being a dedicated petrol-head will soon be a matter of folklore – something we live to tell our own, or others' grandchildren. For now, I leave you with a gem of a tale. My very sincere thank you to Tony for providing us with such a fabulous read.
Dr. Michelle Lynch,
MD, Enabled Future Limited
Racing Memoirs of a Lifetime Lotus Seven Enthusiast
T. Pashley
tony@pashley.gotadsl.co.uk
The Dream
Sometime in the mid-sixties, when my father first took me to see motor racing 'live' at the local circuit, we saw an event for a category called Clubman's Cars: tiny, minimalist machines, and the most popular at that time was the Lotus Seven, a concept dating from the late-50s. I was fascinated by them: although only modestly powerful, their very low mass and racing-car underpinnings gave them a real-world performance to match, or exceed, very expensive and exotic models to which I could never aspire. They appeared to be driven by ordinary mortals of seemingly-modest means. The ideal machine, then, for the impecunious enthusiast: to use as transport during the week, then race at the weekend. Even at that impressionable age I had no aspirations to actually race, but a Lotus Seven looked like a load of fun.
The founder of Lotus, Colin Chapman, had a design mantra: 'just add lightness'. Less weight leads to better performance and responsiveness, less stress on components (which can then be smaller and cheaper) and better fuel economy – a smaller petrol tank and a further saving of weight!
Some years on, after I'd left home and begun driving, the car was still being made and developed (and still is today), by Lotus's former distributor – Caterham Cars, in Surrey – under the name of 'Caterham Seven'. But I couldn't have one: it was not until revisions made to the cockpit design allowed my scrawny six-foot-two of muscular understatement to actually fit inside that I could seriously think about ownership.
The Build
At the time I finally took the plunge, there was a 12-month waiting list for a ready-built car, but a fairly popular option was to buy all the parts unassembled and put them together at home. More Meccano than Ikea, and the instructions, however mystifying in places, were, I was assured, more copious than the Swedish offering.
And so, armed with a bank loan, I ordered the first consignment of parts and cleared all the junk from my lock-up garage. My previous 'batchelor hobby' had been Hi-Fi, but my last major purchase in the pursuit of extracting sounds from pressed vinyl arrived on the very same morning as did a truck bearing cardboard boxes filled with shiny new car parts, nuts, bolts and widgets – and numerous items I couldn't identify. A new obsession had taken hold.
I knew a good deal of theory (or so I thought) but had little practical experience, so the learning curve was steep. And working mostly in a garage with no mains power, it was a project for weekends and holidays. My father would come to stay and help where he could, offering encouragement or an extra pair of hands and making cups of tea.
Including a few weeks taken up with sorting through boxes, just staring at parts wondering what on earth I'd embarked upon, I spent the better part of a year on the assembly; aside from it being new ground for me, I was spreading the cost, and adding some improvements and personal touches to the basic machine.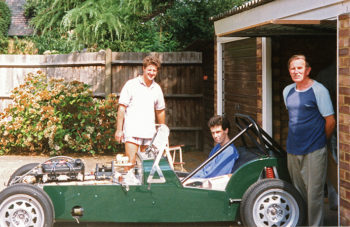 By the time I actually had the car running, it might have been as quick going for a ready-built car, but I'd not have learned how it was assembled and maintained, how it worked – and not had such a sense of satisfaction.
There was a special accreditation process for 'amateur-built vehicles' that were to be used on the public highway (but a much less onerous one then, than it is now). I passed this comfortably and one memorable day, with my old school-mate-from-the-age-of-eleven in the passenger seat, I embarked on the car's first lap of the neighbourhood block. It went, steered and stopped on demand; it felt wonderfully controllable, a tactile extension of hands, feet, mind and backside. Weighing in at just over half a tonne, its performance was – how shall we put this? – sprightly, and it was quite loud. Life would never be quite the same again.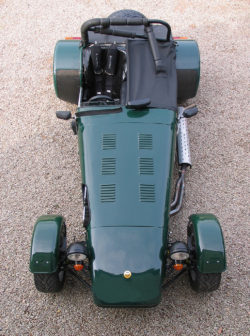 I briefly had a try at competing in 'sprints' – that's time trials, racing against the clock rather than battling wheel-to-wheel with other drivers. I enjoyed the discipline, but you only get a few minutes driving during an event and I didn't really care about being faster than anyone else: I just wanted to enjoy the art (or craft?) of driving and – later on – minimalist touring holidays on the quieter roads of continental Europe.
Driving on racetracks (in non-competitive events, 'just for fun'), particularly abroad with a holiday tacked on, became all-consuming for a few years. One particular season, I rather recklessly spent everything I'd earned in the previous year: thirteen days on track, half-a-dozen short holidays and many an hour spent on cross-channel ferries. It wasn't entirely 'sensible' but it was blast.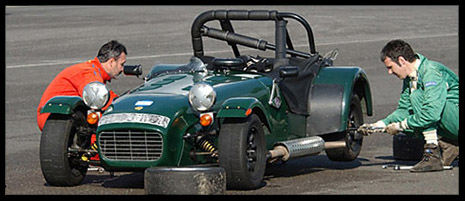 After many years of being a fairly circumspect and dependable driver (other owners would allow me to drive their cars on track), my rising confidence, and perhaps a loss of concentration, got the better of me. Putting a wheel onto the wet grass on a Grand Prix circuit, throttle wide open in top gear, saw me in an irretrievable spin and bouncing off a concrete wall. In one sense I was lucky to hit that wall: if you hit the barriers you have to pay for them!
I'd previously only managed to inflict minor cosmetic damage to my car, but now my pride and joy was bent. Rather badly. I was unhurt though and, with regard to driver safety, the integrity of such a minimal structure and exposed cockpit was truly impressive.
The car had to be repaired. It had become a part of my life; a small part of my father's life too. And ownership and use had gained me the new circle of friends I had struggled to find ever since leaving home (friends I'll now have regardless of continued petrolheadedness). Some might say that car was the closest thing I'd had to a child – or even a beloved pet – but aside from many years' worth of adventure, the interest and the connections had brought me a good deal of paid work.
The Rebuild
Some of my better-heeled friends had suspected that I might be struggling for funds and, without my prior knowledge, had a whip-round to help out and ensure that I could rebuild properly and begin without delay. They wouldn't tell me who had actually contributed and I only knew the total sum collected.
One friend brought the car home from Europe on his trailer and another cleared space for me in his large, but very crowded garage-cum-workshop, and inspection and complete disassembly commenced.
A more conventional, steel-shelled car might have been written-off with repair either too expensive, too difficult or simply unattractive. But aside from any personal or emotional attachments, my Seven had, repair was a practical proposition, and – given that a lot of the labour would be free – rather cheaper than replacement.
Being small, light and manageable, and constructed more like a racing car, taking it to pieces was the quick part. Having maintained the car myself for so long, at least I knew what (almost) everything was, where and how it was fitted, and what it did.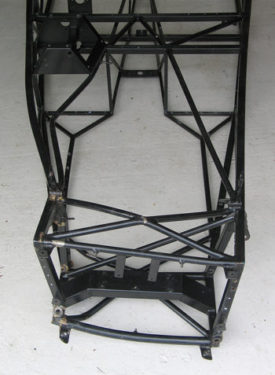 Beneath its largely non-structural bodywork, the chassis is a space-frame made of steel tubes, brazed together by hand by a process sometimes referred to as 'bronze welding', which produces a sound structure without unduly stressing the material with excessive localised heat. It also makes it comparatively straightforward to repair. But not by me: this was way beyond my skill level. The frame was rebuilt by the original makers on the very same jig upon which it was first made, twenty or so years previously, and overseen by the same man.
Of the parts that could not be reused, most were of a single material such as aluminium, or could be disassembled to that state, so there was a reasonable prospect of viable recycling for them.
Oddly perhaps, the rebuild took twice as long as the original build, not least because I wanted to do everything more neatly than I'd done before and try to make every likely maintenance task easier in the future. I wanted to be proud of all the detail work when it was inevitably inspected by fellow owners.
I also wanted to check all of the wiring; I'd had no electrical problems in the past, but time and weather do take their toll on wires and connections. Even a small and simple car has a staggering amount of wiring if it has lights, indicators, regular dashboard instruments and other bits and pieces needed for road use. The wiring loom had originally been supplied fitted to the chassis, but now it was a daunting mass of loose cable and plugs sitting forlornly in a cardboard box. I spent one Christmas cleaning, checking and labelling every part and connector. Most of it was fit to use again, a few parts were simplified or renewed for reliability, but reinstalling it was a lengthy task, and pretty hard on the fingers.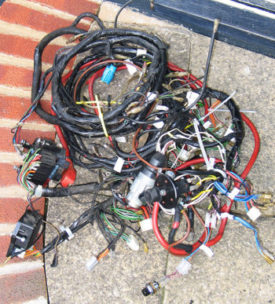 An engineering-minded friend cajoled me into a few improvements along the way and called in favours from fabricators for a few custom-made parts. But that all took time: one such artisan was busy making exhaust systems for a Formula 1 team at umpteen thousand pounds per set, so my freebie fabricated component had to wait its turn…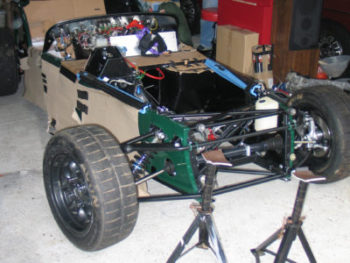 By this time I was in business for myself as a design consultancy and I'd also become editor of a magazine, which meant that work was fairly regular and intense, but periodic. Thus, I could devote decent chunks of time to the project, commuting to the garage – which was good as I was becoming worried about outstaying my welcome there. The car eventually came home with me for some details to be finished and my generous host and his wife are still two of my best friends.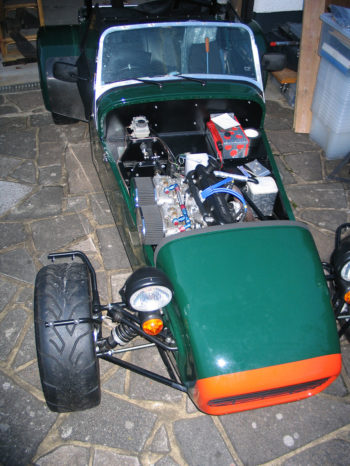 Now, almost completed and looking better than ever before, the car has had disappointingly little use since then, real-life issues having interrupted of late, such as my supportive Dad now needing help himself. For some time, he'd not felt well enough to join me in any motoring adventures; but I'm sure he found joy in seeing me enjoying things he would love to have done for himself.
The Reawakening
There are a few little projects left to consider for my Seven. Electronic management for its essentially old-fashioned engine, could improve it – and make it more efficient fuel-wise. Then further steps to make it quieter: I'm well past the age when driving a loud car gives me a buzz.
I built my sports car long before I could be accused of having a mid-life crisis – it was more the kind of second teenage-hood that you can only afford as an adult. A part of me would like to continue while such machines and activities are still tolerated, but there's so not much left to do that I haven't done already.
And, to be honest, this is all running against the tide. Driving for pleasure in this day and age – particularly with an internal combustion engine – can be regarded as irresponsible, and even somewhat perverse, though I've certainly had my fun. Building the thing did give me a surge of confidence in what I could achieve if I set my mind to it. It's given me some wonderful memories to cherish, of places I'd never have visited, were it not for knowing I'd have a great time getting there. And I got to drive, spiritedly, on a dozen different Grand Prix circuits; I might be too old now for a realistic prospect of having grandkids, but it would be something to tell them!
A drive in the Seven can be electrifying, and maybe that's a hint as to what should come next. For me, the issues of weight and packaging might still be obstacles at the moment to a truly desirable, charismatic small hybrid or electric vehicle. But those technologies do have the potential to delight the performance car enthusiast. And given the Seven's small-ish fuel tank and relative thirst, range-anxiety wouldn't exactly be new to me!
In the past, there weren't the clever technologies to improve performance and efficiency, but I'm sure lightness and making vehicles no larger or more complex than they need to be, are important lessons. A modern car is so full of sophisticated fittings that it seems more likely to be scrapped than kept going.
There are some very impressive high-end hybrid or fully-electric machines coming from prestige brands; in my possibly biased opinion, somewhat decadent technology-showcases with almost infeasible levels of performance and shocking price tags. If I liquidated enough assets to acquire one, I wouldn't have anywhere to live! But with a bit more 'trickle-down' of that technology, I could be ready to plug in and switch on…
Author Bio
Tony graduated with a First Class Honours degree in Graphic Design before spending fifteen years with mainstream London advertising agencies, as a typographic specialist and art director. He then established himself as a self-employed consultant, working on more general graphic and communications design, and copywriting – working in such diverse fields as life sciences, engineering, aviation, broadcasting, motorsport, public utilities, publishing and editorial design. He continues to design and write, and enjoys learning about new industries and technologies and communicating their methods and benefits to a non-specialist audience. Tony lives in London, collects books, enjoys walking and currently hankers after the space to have a carpentry workshop.