Optimising Technology Portfolios
Enabled Future Limited was incorporated on October 4th, 2016. Its mission is to optimise technology portfolios in the context of increased adoption of Advanced Manufacturing Techniques (AMT), the Circular Economy and Industry 4.0.  Its vision is to help stakeholders in the development and manufacture of catalyst, chemical and material technologies to navigate the changes occurring in their operational and market environments because of these trends.  The goals of EFL's services are for clients to enjoy a virtuous circle of accurately targeted, patent-protected innovations, rapid technology commercialisation, faster return on investment, increased market share, revenue and profits.
EFL's goals and values encompass innovation for long-term societal benefit: providing support for commercialisation of technologies, products and services which create jobs, increase GDP and quality of life in a manner that has the least possible negative impact on the environment.
EFL's approach utilises experience gained over 15 years in the catalyst, precious metals, chemicals and recycling sectors as well as five years in consulting. This experience is combined with the ability to gather up-to-date intelligence from secondary research of a wide array of public domain information and deep patent analysis. This information is then evaluated and reality checked using primary research with contacts along all parts of the supply chain. This approach provides a systematic, in-depth view of companies, technologies and market applications.
Enabled Future Limited Capabilities and Approach to Assignments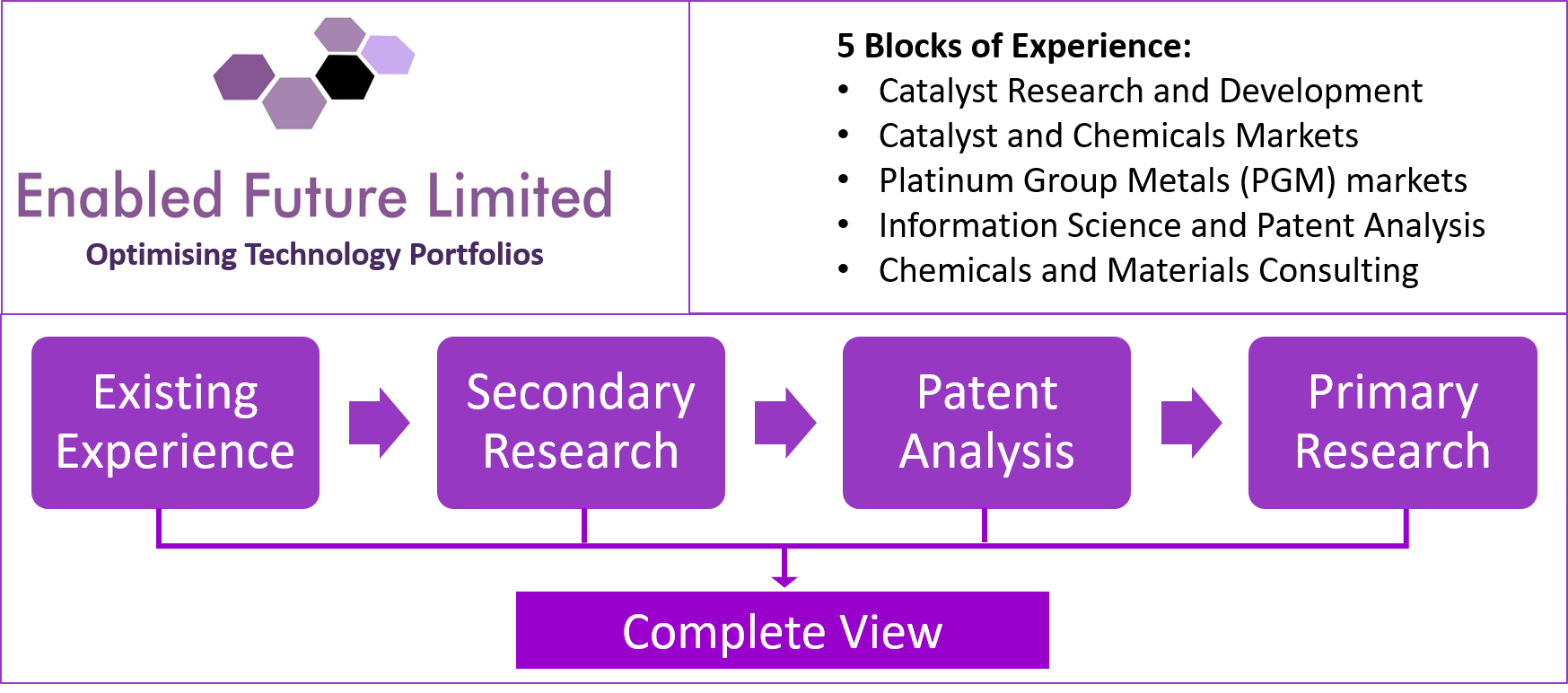 The matrix of technologies covered and services provided is set out below. Four technologies and four services make up the majority of EFL's activities. The overarching context for assignments is one or more of Advanced Manufacturing, Circular Economy and Industry 4.0.
Enabled Future Limited Products & Services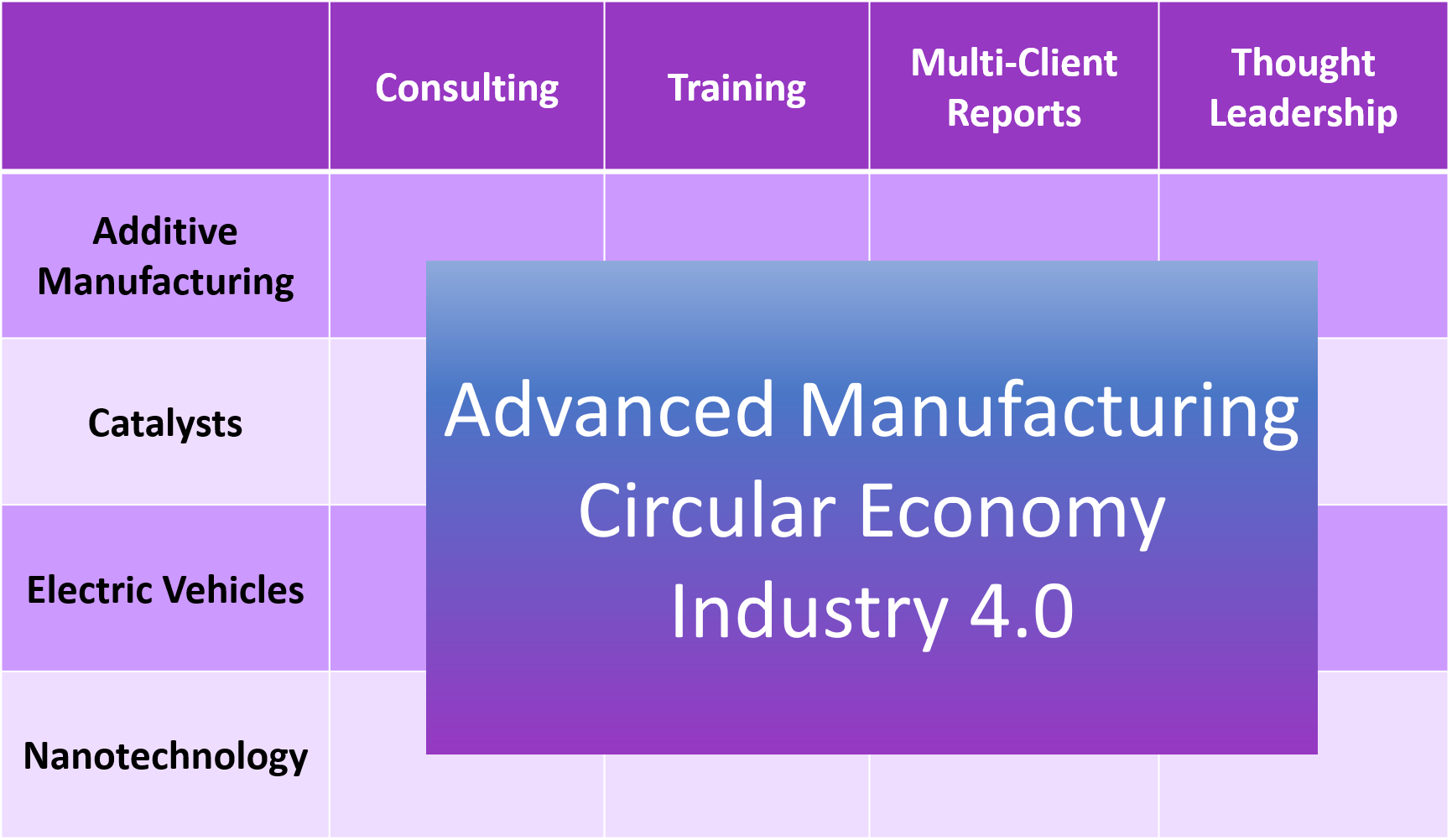 Assignments covered include:
Thought Leadership: "Chromium Free Catalysis" looking at how the European REACH legislation and other global regulatory environments are restricting the use of hexavalent chromium and the effects on manufacture of chromium catalysts in Europe.
Thought Leadership: "Catalysis and Industry 4.0" looking at how robotics is employed in making automotive catalysts.
Thought Leadership: "Application of Additive Manufacturing to Catalyst Production" assessing the status of Additive Manufacturing Technology (AMT) as applied to catalyst production, catalyst manufacturer's patents, activities and plans in this area.
Thought Leadership: "Future Uses of Platinum Group Metals (PGM)" describing the potential effects of vehicle electrification on PGM demand and possible new uses in the chemicals sector.
Training: "Introduction to Additive Manufacturing Technologies" covering all the main 3D Printing technologies, key applications, chemical value chains and industry roadmap.
Multi-Client report on "Carbon Dioxide Startups for Venture Capital" which profiles startup companies with technology for conversion of carbon dioxide to chemicals and products as well as funding bodies including Venture Capital, governmental organisations, not-for-profits and philanthropists.
EFL has a unique focus tailored specifically for innovative forward-thinking organisations looking to develop sustainable, futureproof technologies. For more information on EFL's activities and services please contact its Director and Owner:
Dr Michelle Lynch
Mob:     +44 (0) 7539 966777
Email:    michelle.lynch@enabledfuture.com